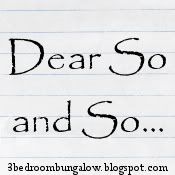 Dear Potty,
Please can you try and be a bit more inviting and desirable to my nearly 3 year old. I'm getting sick of nappies.
Sincerely,
Mum of Reluctant Potty Trainee
***
Dear Ironing Pile,
Please sort yourself out this week.
Sincerely,
Mum with Better Things to do
***
Dear Computer,
Please stop distracting me from getting on with the housework.
Sincerely,
Easily Distracted
***
Dear Robert Burns,
Thanks for the excuse to make veggie haggis, neeps and tatties this week.
Sincerely,
Burns Night Celebrant
PS I like the 'My love is like a red, red rose' poem that you wrote.
***
Dear Blog World,
I have no idea how I managed before I found this outlet for all the nonsense in my head.
Sincerely,
Blogging Addict